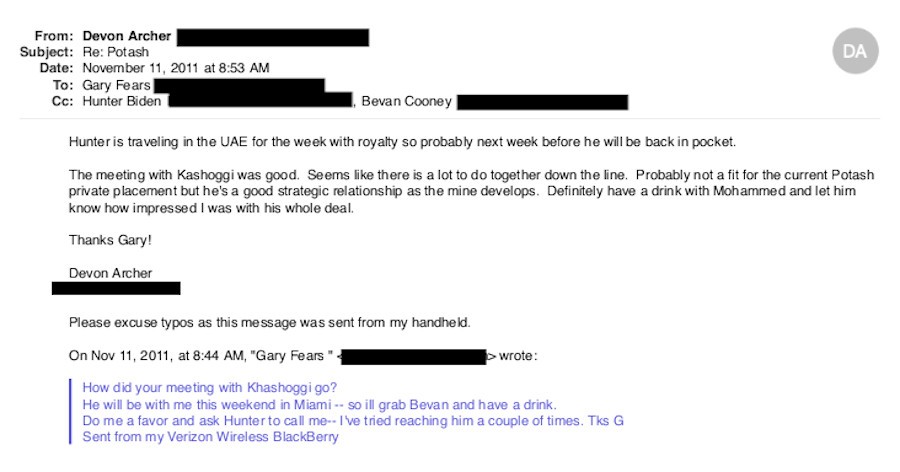 One of Hunter Biden's former business partners has given the journalists at Breitbart more damning emails that show just how corrupt the Bidens actually are. As it turns out, it's even worse than we thought.
Bevan Cooney was a one-time Hunter Biden and Devon Archer business associate. Cooney is currently in prison serving a sentence for being involved in a 2016 bond fraud investment scheme. According to him, he was the "fall guy," and that both Biden and Archer have so far gotten away with avoiding responsibility for it.
According to the emails, Hunter had used the Obama-Biden administration to arrange private meetings for foreign clients and investors.
Re China Entrepreneurs Club… by Breitbart News
On November 5, 2011, one of Archer's contacts sent him an email about an opportunity to gain "potentially outstanding new clients" by simply helping to arrange White House meetings for some Chinese executives and government officials.
The group was the China Entrepreneur Club (CEC), and members of the group included Chinese billionaires, Chinese Communist Party loyalists, and at least one "respected diplomat" from Beijing.
"I know it is political season and people are hesitant but a group like this does not come along every day," wrote Mohamed A. Kashoggi on behalf of the CEC. "A tour of the white house and a meeting with a member of the chief of staff's office and John Kerry would be great. Not sure if one has to be registered to do this."
According to Kashoggi, the trip presented "a soft diplomacy play that could be very effective," and it would give Hunter's business partners "good access to [the Chinese] for any deal in the future."
Before contacting Hunter and his associates, the CEC had been reaching out to the Obama administration, trying to get meetings with the top officials, but to no avail.
"This is China Inc," wrote Khashoggi in the email, as he referred to the group of Chinese billionaires. "Biggest priority for the CEC group is to see the White House, and have a senior US politician, or senior member of Obama's administration, give them a tour… If your friend in DC can help, we would be extremely grateful," he emphasized.
Apparently, Hunter Biden and Devon Archer both delivered within ten days.
Archer received an email asking how a meeting with the CEC's representative went, with the closing, "Do me a favor and ask Hunter [Biden] to call me — I've tried reaching him a couple of times." Archer's response is shown below.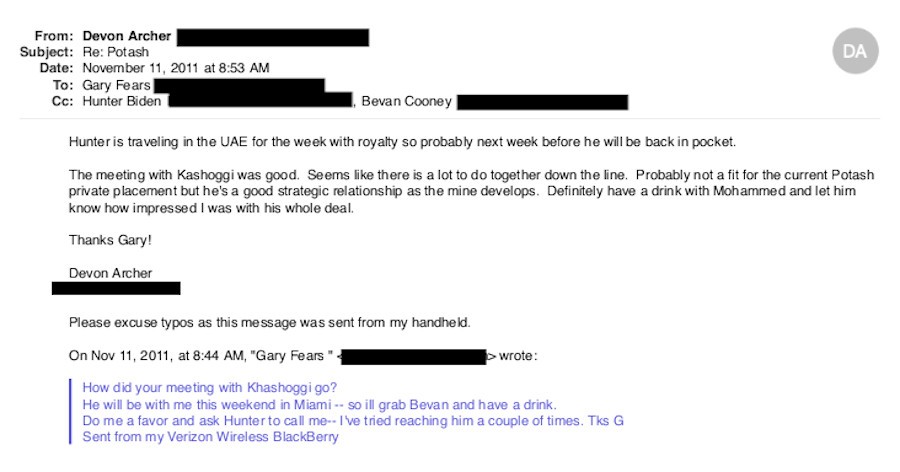 Just one minute later, Archer sent a follow-up email, "Couldn't confirm this with Hunter on the line but we got him his meeting at the WH Monday for the Chinese folks."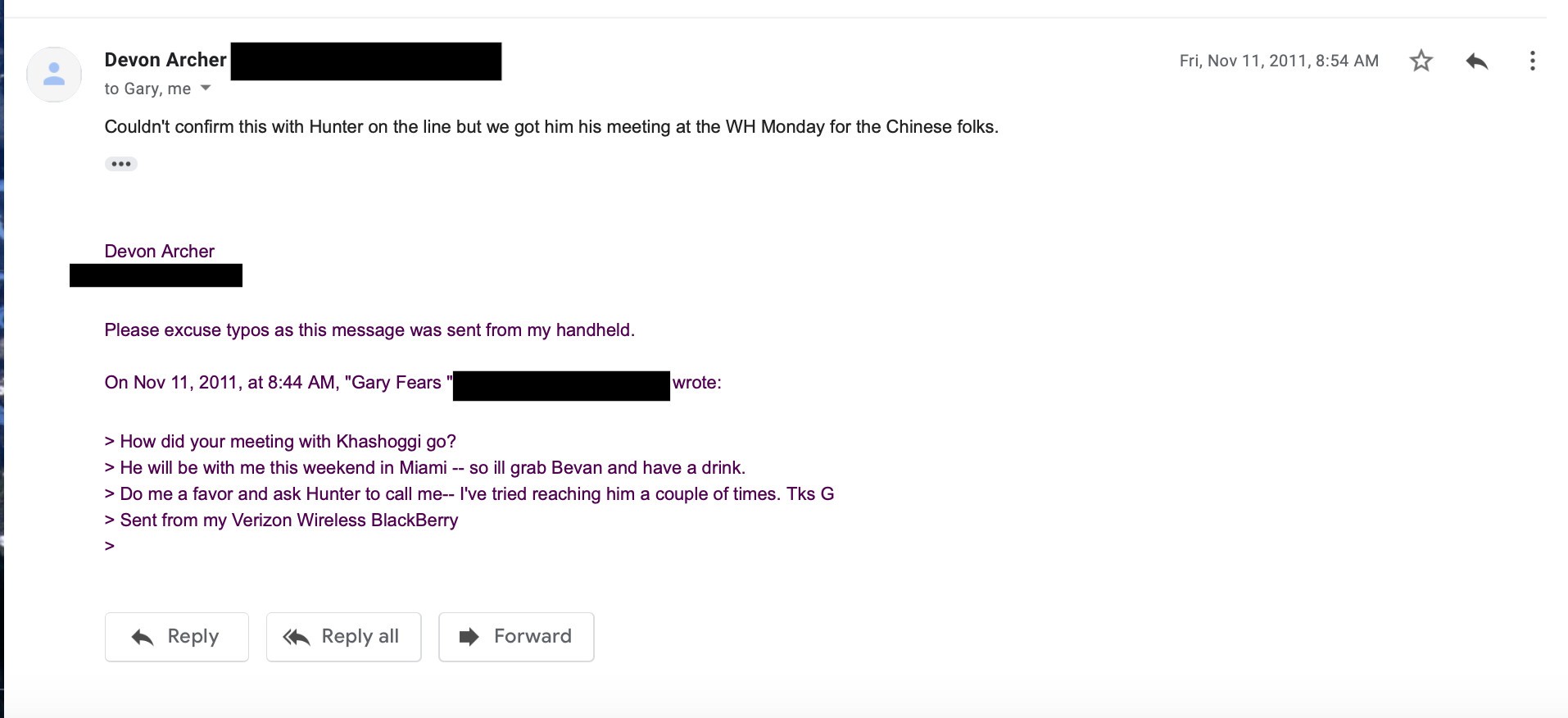 On November 14, 2011, the day of the meeting, Cooney emailed Fears to confirm that Archer "got the Chinese guys all taken care of in DC."

The Obama-Biden administration's archives show that the Chinese delegation indeed visited the White House on November 14 of 2011. More importantly, they enjoyed high-level access as they did so.
Although the visitor logs did not mention any meeting with then-Vice President Joe Biden, the off-the-books meeting was revealed by one of the core founders of the CEC herself.
In an obscure document, CEC Secretary-General Maggie Cheng boasted of the prominent figures in Washington that the CEC had met with. Interestingly, the first name she said was Joe Biden's.
So far, the Biden campaign has not responded to Breitbart's request for any comments on the story.


View original Post