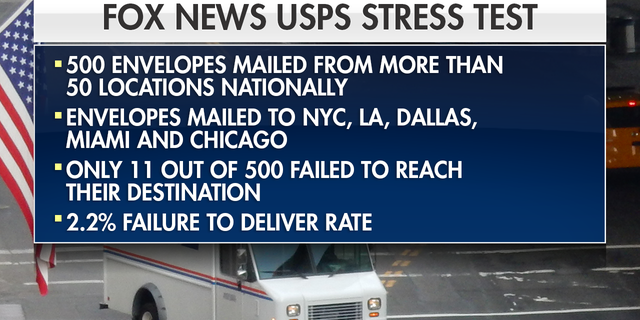 In preparation for the 2020 elections, Fox News decided to put the United States Postal Service to the test.
In a special investigation, senior correspondent Eric Shawn, the I-Unit, and others set 500 envelopes from over 50 locations throughout the country. They did this to test how quickly the envelopes would travel between addresses and to a single destination.
A month later, nine envelopes have not been delivered, and a little more than 2 percent of the envelopes failed to reach the destination.
The USPS' ad is entitled, "Certainty: The USPS Delivers." But do they? The result of the particular investigation shows that they don't deliver everything.
Watch the ad below.
A spokesperson for the USPS told Fox that they could not be sure whether the test "represents a reasonable approximation of Election mail, including ballots, as processed and delivered by the United States Postal Service in a real election cycle."
More than 32.8 million votes have reportedly been cast by mail already, and one expert warned that any failure to deliver by the USPS could have serious consequences.
Fox kept track of the 500 envelopes that their producers sent in New York City, Los Angeles, Miami, Chicago, and Dallas. Out of the 500, 11 were not delivered. Two envelopes ended up returned to the sender, while the other nine have not yet arrived a month after.
In each of the five cities, 100 envelopes were sent from different addresses.
Out of the 100 envelopes sent from each metro area, 20 were addressed to a post office box in lower Manhattan, monitored daily. The other 80 were sent to a single destination in each city that they also watched.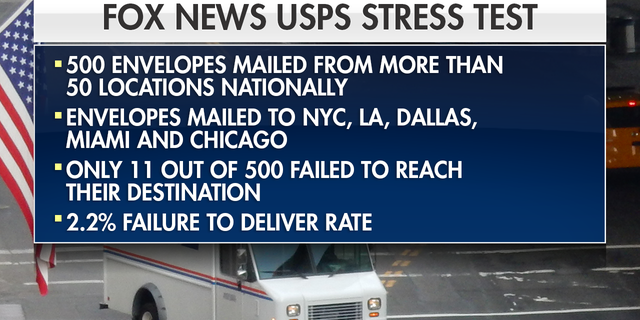 In a statement, a USPS spokesperson, one of the Postal Services' experts on election mail, told Fox that aside from working closely with state officials on the issue, the USPS "has allocated additional resources, including, but not limited to, expanded processing procedures, extra transportation, extra delivery and collection trips, and over time, to ensure that Election Mail reaches its intended destination in a timely manner."
According to the USPS, all election mail also bears unique official markings that separate them from standard mail. All election mail is also expedited by law.
The spokesperson added that beyond additional resources, "the use of extraordinary measures beyond the normal course of operations is authorized and expected to be executed by local management between Oct. 26 and Nov. 24 to accelerate the delivery of ballots, when the Postal Service is able to identify the mailpiece as a ballot."
Barry Burden, the director of Elections Research Center at the University of Wisconsin-Madison, spoke about the issue. "Some estimates are that there might be one hundred and fifty million people voting for president this year."
According to the Pew Research Center, mail-in voting surged during the 2020 primaries, which is a cause of concern. This is why Burden believes that "any failures of the postal service to deliver in a timely fashion are really problematic. They put a voter at risk of not having their ballot counted."


View original Post